Words
It is no secret that I first identified as an atheist in 2013 because of the arrest and threatened execution of four Bangladeshi bloggers following the brutal murder of Rajib Haider that February. My theological beliefs had long since morphed my understanding of God from a supernatural being who could intervene in the natural world into an understanding of god as the beauty we create between one another that sustains us through the joys and sorrows of life. So it was not… Continue Reading…
West Hill was privileged to host a fundraiser this past weekend to raise money for Bangladeshi asylum seekers. The situation in Bangladesh is terrifying for secular authors and bloggers who each risk a brutal death whenever they are in public. Some have fled the country, others remain hidden. If you'd like to make a donation to this work, visit our CanadaHelps page, make a donation and add a note saying it is for Bangladeshi asylum seekers. West Hill has supported… Continue Reading…
Every Sunday at West Hill, we explore something that might help us work on the relationships we have in our lives with a view to shifting them toward the good, working on them to make sure they are better, stronger, more honest, and more fulfilling. Sometimes we focus on our relationship with ourselves, sometimes on our relationships with others, and sometimes on our relationships with the world around us including Earth, and all the stuff we interact with on a… Continue Reading…
Beyond the Beliefs that Divide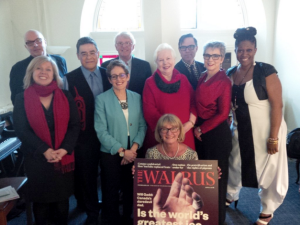 It was a privilege to be able to participate in the Walrus Talks Spirituality event that took place at Trinity-St. Paul's Centre for Faith, Justice and the Arts early in April. Joining me on the dias were Bishop Michael Ingham, Bishop Lewis Cardinal, Joan Garson, Natalie Bull, Timothy Caulfield, and… Continue Reading…
It has been months since I wrote new words to a well-loved tune but yesterday morning, three hours before the service started at West Hill United, I felt inspired to do so. It is the first song I've been able to write since the review of my effectiveness was initiated by The United Church of Canada last May and it was a great feeling to be able to move past the block that process has been and create something new.
Continue Reading…
A project based on the Bible
For over a year now, I've been working on a project that has me reading the Bible on a weekly basis. I had to take a break for several months to deal with The United Church of Canada's review of my effectiveness simply because I could not write during the first many months of that gruelling process. But I have managed to get the project back on my desk and begin working on it again.
Clergy who continue to use… Continue Reading…
I received the following query from Richard Bott, a colleague in The United Church of Canada. Richard is exploring the question of how many clergy in the UCC may be atheists and invited me to share whatever knowledge I had. My response is also posted below.
Please feel free to share your thoughts on these questions in the comments section. Richard is interested in the impressions those inside and outside the church may have on the situation. Another interesting question would be… Continue Reading…
Let's build a list for people looking for a church like West Hill.
In the aftermath of my interview with Wendy Mesley, I wanted to make sure that anyone who checked out my page looking for a congregation in their area might learn about some places they may feel welcome. This post is to make sure… Continue Reading…
I have so needed to do this and for so long! Finally, I managed to finish the job today and now have a single page with links to media sources listed on it! Yay! Say hello to my new Media Page! (You'll need to click that link to get to it!)
There are a number of links on the page which take you to various media sources. I've only included items posted or recorded since March of 2015. These include the two media items… Continue Reading…
In the last of our Inspired by Hollywood series, we're looking this week at Spotlight, a riveting film about the unwrapping of the tightly protected scandal involving dozens of Roman Catholic priests in Boston and eventually reaching to involve priests in hundreds of cities across North America. I couldn't move from the theatre for many minutes after the final credits scrolled, so deeply did I feel the culpability of power, the devastation that unfettered religious power can bring about.
My history knows sexual violence. Like… Continue Reading…