Words
I have not been able to blog much recently and apologize for that. It has been a hectic two months. It began early in August with Colin Perkel's breaking of the story of Toronto Conference's review of the effectiveness of my ministry, then moved into a hectic September as we prepared documents to file alongside my appeal of the General Secretary's ruling. The past week has been completely eaten by some minor surgery, something I thought I'd bounce back from… Continue Reading…
An open letter to the Moderator of the United Church
from Bishop John Shelby Spong
Dear Moderator Cantwell,
I write with some alarm at what is happening in the United Church of Canada, a church that I have long admired. I recall your history. Your church decided that women were not to be excluded from ordination long before the first woman ever applied. In 1988 your church proclaimed that homosexual people were not ineligible for ordination. That stand resulted in a loss… Continue Reading…
Munroe is a friend who visits West Hill regularly. Over the past couple of years, he's been working on a play created almost entirely from the words of the great orator, Robert Ingersoll. It is an honour for him to have written this wonderful letter. I've written to CBC Archives to see if we might be able to get a copy of Reddick. Munroe blogs at Return to Paradox.
To:     Rev Jordan Cantwell (Moderator UCC)
Ms Nora Sanders (Gen.  Secretary UCC) Continue Reading…
A letter to United Church of Canada elected officials and senior staff
from Ben Robertson, Windsor, NS
To paraphrase Blaise Pascal, I apologize for writing such a long letter; I
didn't have time to write a shorter one.
As a member of the United Church of Canada, I am writing to express my
deep concern with the process that has been initiated to review the
"suitability" of Rev. Gretta Vosper to continue as an ordained minister of
that church. I have been… Continue Reading…
In Defence of Gretta Vosper.
I understand that Gretta Vosper is soon to appear before a church committee to be examined concerning her beliefs. I do not know what her beliefs are but in my personal contacts with her I have found her to be a person of creative Christian faith, of which we have all too few in the ministry, especially at a time when human culture is changing so rapidly. I wish to give her moral and theological support… Continue Reading…
August 21, 2015
The Right Reverend Jordan Cantwell
Moderator, UCC
3250 Bloor St. West, Suite 300
Toronto, ON M8X 2Y4
Nora Sanders
General Secretary, UCC
3250 Bloor St. West, Suite 300
Toronto, ON M8X 2Y4 Canada
David Allen
Executive Secretary – Toronto Conference
65 Mayall Avenue, Toronto, ON M3L 1E7
The Reverend Bryan Ransom
President – Toronto Conference
65 Mayall Avenue, Toronto, ON M3L 1E7
Dear Esteemed Colleagues in the United Church of Canada,
I am writing on behalf of Rev. Gretta Vosper. Gretta is a… Continue Reading…
… and how you can get involved
It has been a challenging few months since Toronto Conference of the United Church ordered that I be reviewed due to concerns over the effectiveness of my ministry. But I have been uplifted by the wonderful support I've received and I wanted to share some of that with you and offer you some ways that you can also add your support to this incredible work we are engaged in.
Media interest and support
Colin Perkel kicked off the… Continue Reading…
Today, at its meeting in Cornerbrook, NL, the General Council of The United Church of Canada (UCC) sent two petitions to a Commission rather than dealing with them with all its Commissioners in attendance. The two proposals had been triggered by both the review of my effectiveness ordered by Toronto Conference's sub-Executive Committee and the sending of forms to the Rev. Bob Ripley by London Conference's Executive Secretary, Cheryl-Ann Stadelbauer-Sampa, that when completed, would remove him from the Order of Ministry in… Continue Reading…
a poem about tomorrow today….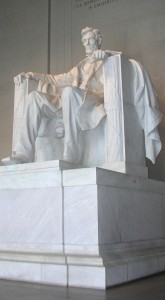 This past Sunday, we explored the vantage point from which we can have an effect upon the future.
Really, there is only one vantage point.
It's now. Not tomorrow.
Not when the future has already arrived.
Now.
With that in mind, the Focused Moment for the week began with the image of a much-beloved statue overlooking Washington, DC.
Lincoln's statue,
oversees but a sliver… Continue Reading…
Nones Emerge as Major Religious Category
"Ladies and gentlemen, this is the most terrifying thing I have ever witnessed . . . Wait a minute! Someone's crawling out of the hollow top. Someone or . . . something. I can see peering out of that black hole two luminous disks . . are they eyes? It might be a face. It might be . . ."
In 1938, when Orson Welles is supposed to have sparked mass panic with his radio broadcast of The… Continue Reading…