It is no secret that I first identified as an atheist in 2013 because of the arrest and threatened execution of four Bangladeshi bloggers following the brutal murder of Rajib Haider that February. My theological beliefs had long since morphed my understanding of God from a supernatural being who could intervene in the natural world into an understanding of god as the beauty we create between one another that sustains us through the joys and sorrows of life. So it was not difficult for me to sympathize with those four bloggers and Fazil Say, the Turkish pianist who had been sentenced to ten months in prison for identifying as an atheist. I, too, was an atheist in my beliefs. It was time to name that reality and stand in solidarity with these men I would never meet.
It has been an unexpected delight to come to know Raihan Abir, his wife Samia, and his daughter Sophie, all three of whom have embedded themselves into my life and into the hearts of everyone at West Hill United. Raihan, co-author of the Bengali book The Philosophy of Atheism came to Canada after the public murders of his co-author Avijit Roy and his editor, Ananta Bijoy Das. But he left many friends behind and the killings have continued, including the murder of his publisher Faisal Arefin Dipon. Even before leaving Bangladesh, Raihan bravely stepped into Avijit's footsteps and now runs Mukto-Mona, the Bangladesh Secular Humanist organization from his home in Canada. He remains on a published list of secular humanists who have left Bangladesh. The list identifies the countries in which they live and invites any who find them to murder them on the spot.
We do not understand these tragedies. So long have we been able to speak our truths, raise our voices in dissent, urge our governments, our communities, and our faith groups to see the change that needed to be. Barring the egregious actions of the police during the G20 in Toronto in 2010, for the most part we have done it without threat of sanction or imprisonment. We have certainly done it without threat of death. And were one of us to be killed for speaking about freedoms all should enjoy, our government would condemn the murderer, not the murdered as the Bangladeshi government has done.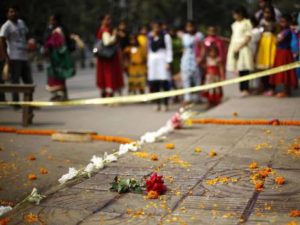 And so it was only right that I should join my voice to those who have raised theirs in condemnation of the Bangladeshi government's continued neglect of justice and the shocking blame they have laid upon those who have been murdered on its streets. In fact, it is a privilege to be able to do so.
Please read the entire Statement on Attacks on Atheists, Secularists, and Religious Minorities in Bangladesh prepared by the Center for Inquiry. Share it with your faith community, your Member of Parliament, your local newspaper. Share it as broadly as you can.
Every day that you enjoy the freedom to speak your mind is another day that our sisters and brothers in Bangladesh live in fear. The least we can do is be in solidarity with them and urge our governments, our faith communities, our families, and our neighbours to pay attention and find ways to be supportive.