Amen: What Prayer Can Mean in a World Beyond Belief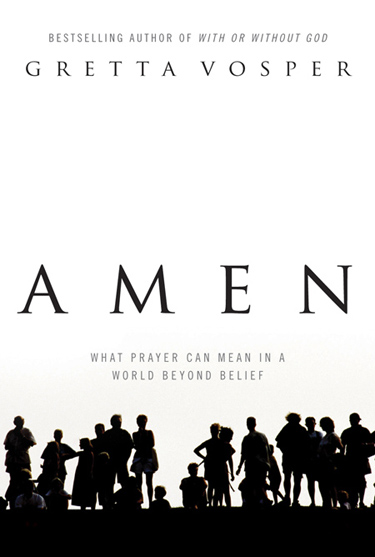 Prayer is an essential part of the daily lives of many people. Some believe it connects them with God, a cosmic force, the universe or life itself, and that it can change circumstances or bring them comfort, protection and peace. Others engage in the act of prayer as a traditional ritual from which they neither demand nor expect results. Many who pray cannot imagine living without it. For many others, however, prayer has no significance in their lives at all. Having left a practice they once knew or matured without religious intervention or instruction, the idea of praying regularly might be considered by these individuals as nothing more than a waste of time. In Amen, Gretta Vosper, United Church minister and author of the controversial bestseller With or Without God, examines these diverse positions in the light of the harsh realities of unanswered prayer, the secular critique of supernatural intervention and the need for a deep sense of ownership for the suffering in the world. With characteristic honesty, she calls the reader to submit the tradition of prayer to the test of integrity. Can we draw from it useful principles for addressing human and global needs? Or is it safe, and maybe even more effective, to get up from our knees and live out the answers we seek?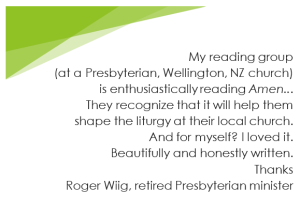 Information:
Hardcover: 320 pages
Publisher: HarperCollins Publishers Ltd (April 3 2012)
Language: English
ISBN-10: 1554686474
ISBN-13: 978-1554686476
---
With or Without God: Why the Way We Live is More Important than What We Believe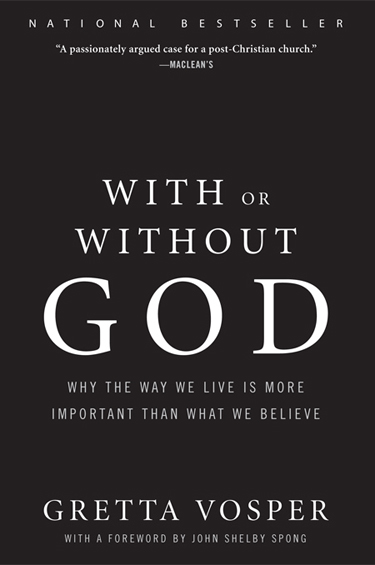 Envisioning a future in which the Christian church plays a viable and transformative role in shaping society, Gretta Vosper argues that if the church is to survive at all, the heart of faith must undergo a radical change. Vosper, founder of the Canadian Centre for Progressive Christianity and a minister in Toronto, believes that what will save the church is an emphasis on just and compassionate living—a new and wholly humanistic approach to religion. Without this reform, the church as we know it faces extinction. Vosper addresses the issues of spiritual fulfillment, comfort and connection in the modern world through a thoughtful and passionate discourse. She urges a renewal of old doctrines but does so with dignity and respect. Offering difficult but penetrating insights into a new generation of spiritually aware—and spiritually open—people, With or Without God offers a startling model for a renewed church as a leader in ethics, fostering relationships, meaning and values that are solidly rooted in our own selves.
Information:
Hardcover: 400 pages
Publisher: HarperCollins Publishers Ltd; First Edition edition (Mar 12 2008)
Language: English
ISBN-10: 1554682282
ISBN-13: 978-1554682287
---
Wonder of Life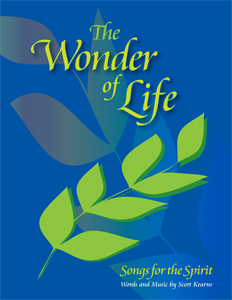 Increasingly aware that the words of traditional hymnody are challenging and even prohibitive for those whose faith does not include the dogma so clearly presented there, Scott Kearns, Music Director at West Hill United Church, undertook to write songs for congregational and individual use and enjoyment that carried no prerequisites of faith, theology, or church background. Rather, they focus on the core values that are held sacred by so many, inside and outside the church.
Buy This Book with Paypal
---
Sing it Forward: Traditional Hymns Recast and Rewritten for Religious and Humanist Communities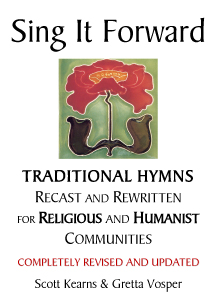 Sing It Forward was born of a church in transition. Awakening to the clarity of contemporary Christian and secular scholarship and moving beyond doctrinal beliefs demanded that liturgy and the language that supported it be radically revised. An urgent need, it was no less important, however, than our desire to hold fast to elements of our heritage that had defined and enriched us as a congregation, a denomination, and a faith tradition. And so, over several years my partner, Scott Kearns, and I sourced and rewrote songs so that they could be used in contexts where the congregation was growing out of the Christian tradition and so, too, singing itself beyond beliefs.
Buy This Book with Paypal
---
Catching Our Breath
Many years ago, I learned that an accomplished composer whose works were known around the world, had undertaken while still in university, to put a piece of scripture to music each and every week. That simple commitment has led to an astonishing collection of pieces and a practice that continues to improve and impress today, decades after the first note was written. Impressed by her commitment and the volume of resources she had created for others to use, I decided to do the same but in my medium, not hers.
And so, each week, rather than reach for any number of published resources I could put my hands on, I started writing my own prayers for Sunday services. As time progressed and fewer and fewer of those published resources met the criteria of an evolving post-theistic community, my choice became a necessity. Over the years, prayers have evolved into Focused Moments and look more like poetry than the appeals for divine attention or relief. Sometimes, as I read the Focused Moment, music is played underneath. Sometimes a photograph or slideshow provides accompaniment. Sometimes it stands alone. Always, it invites reflection, consideration, inspiration.
I think of it as the evolution of prayer.
There are three collections.
---
Holy Breath: Prayers for Worship and Reflection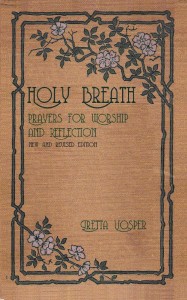 Late in 2004, having journeyed with an amazing group of people who had supported and encouraged me as the Canadian Centre for Progressive Christianity was born, I searched for a way to say "Thank you" to them for their courage and vision. Holy Breath was created as that thank you.  Prayers (evolution is a process, remember) written over the previous three years were chosen and collected into a small book, offered as a gift to all who attended the Christmas Eve service that year.  We no longer celebrate Christmas at West Hill, and we don't usually refer to our activities of reflection, lament, and thanksgiving as prayer.  But we still seek inspiration and this first collection continues to offer just that.
My partner, Scott Kearns, has, for many years, collected antique books. The cover of Holy Breath was created from one of those books.  Mildred's Daughters, by Martha Finley, was originally published in 1894 by the A. L. Burt Company
Information:
Holy Breath Revised
© 2004 by Gretta Vosper
ISBN 0-978-0-9737752-0-4
Published by File 14: PostPurğical Resources, Toronto, ON
Buy This Book with Paypal
---
Another Breath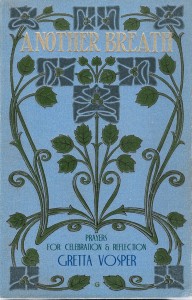 This, my second collection of "prayers" (the evolution now requires quotation marks) culled from the work I prepare for West Hill's weekly Sunday gatherings, continues the evolutionary path of that congregation. More poetry than prayer, these were written between 2004 and 2008 and reflect the non-theistic transition being undertaken by the congregation.  No appeals to the god, God, are to be found, those who gather at West Hill eager instead to find their own responsibilities and potential and the many ways in which they can influence the world using their own power and influence. The collection follows the meandering path of human curiosity and inspiration.  Published a year following With or Without God, it puts all the principles outlined in that book to work and is offered as material for use in traditional worship settings, humanist and post-theistic gatherings, and personal reflection.
Following the style of Holy Breath, the cover of Another Breath was also taken from an existing Victorian novel in my husband's collection.  A Brother's Need not only offered a beautiful design but the letters in the title inspired the title of the collection as I rearranged and played with them in my Paint program.  Written by Lillian Staple Mead, A Brother's Need was originally published by S. W. Partridge and Company. Although Scott's edition is undated, it is known that the novel was republished in 1903.
Information:
Another Breath
© 2009 by Gretta Vosper
ISBN 0-978-0-9737752-1-1
Published by File 14: PostPurğical Resources, Toronto, ON
Buy This Book with Paypal
---
We All Breathe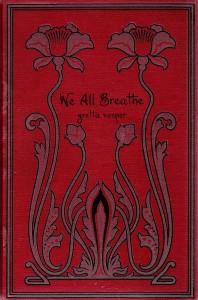 It was another three years and another accumulation of resources prepared for use at West Hill United, a spiritually non-exclusive progressive community growing out of the Christian tradition that came together in this third collection, We All Breathe. Although the explanation of West Hill sounds like a mouthful, when it is put on paper or experienced within the context of a gathering of inspired and inspiring people, it is, simply put, beauty. In this collection, the evolution insists that what we are engaged in is no longer prayer; it is part of becoming the poetry of the world and of the human experience.
From the preface to this third collection, "We are an amazing family, we humans. Diverse in every aspect, we are yet strikingly similar. Our physical characteristics display variations on the typical – two eyes, arms, legs; ten toes and fingers; and a head crowned with hair of natural shades ranging from white through blonde, red, and brown to black. We thrive on the same nutrients delivered through an astonishing array of foods prepared in both ancient and ever more creative ways. We use the same parts of our brains, more or less, to explore radically different parts of our world and to engage in dramatically opposed and sometimes violently defended ideas. We all know joy, sorrow, exhilaration, and despair and we breathe our way – in and out – through them. Each one of us was born; each one of us will die. In between those two events, we all breathe."
The cover of We All Breathe again comes from an antique Victorian novel in my husband's collection.  Hurst and Company published Mrs. Mary J. Holmes' Dora Dean or The East India Uncle in 1858.
Information:
We All Breathe
© 2012 by Gretta Vosper
ISBN 0-978-0-9737752-3-5
Published by File 14: PostPurğical Resources, Toronto, ON
Buy This Book with Paypal